Who Is Nikki Haley And What Are Her 2020 Presidential Election Betting Odds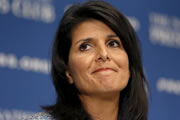 When looking at political betting odds, the list of potential 2020 candidates seems to shift and change nearly every day. One constant that has been on the board for a while is former South Carolina Governor and current U.N. Ambassador Nikki Haley.
You might not know her. You may not have heard of her before 2016. But she's been quietly building up her resume as one of the brightest young stars in the Republican Party for some time. From her delicately expert handling of the Charleston Shooting to the way she responded to racial slurs and slander during her gubernatorial bid, as well as how she is currently handling herself as our Ambassador to the United Nations, She's definitely carved out a space for herself in the Party, and as a potential presidential candidate in the 2020 election.
When you look at bovada's current political betting odds, Haley seems like kind of a long shot. She's middle of the pack at +5000 to win the 2020 presidential election. There are more well-known names on the board ahead of her, names like Paul Ryan and Marco Rubio, who she campaigned for during the 2016 race. But I wouldn't count her out.
She's not what you'd expect when you picture a Republican Party member. Which is kind of exactly what the Party needs right now to become relevant again. Young, she was born in 1972 to Indian immigrants. She made her name as a prominent businesswoman, turning her mother's company into a multi-million dollar business. She began her political career in 2004, when she ran for a seat in the South Carolina House of Representatives against an incumbent – the longest-serving House Representative, Larry Koon.
She won the primary and easily took home the election as an unopposed candidate, becoming the first Indian-American to hold a seat in the South Carolina House. This wouldn't be her only "first" in SC politics, though. She was elected as the first female Governor of South Carolina in 2010. While her campaign did not get off to a good start – she was accused of not one, but two extramarital affairs – she overcame this to win the election and take her place in history.
During this time, we got a glimpse of the grace and poise that this potential presidential candidate possesses. She had to contend with racial slurs from fellow state politician Jake Knotts, a state Senator, who called her a "raghead" and accused her of still practicing Sikh religion despite her conversion to the Methodist faith. Haley stated that she still attended Sikh services out of respect to her parent's culture.
Haley has been an outspoken advocate of what is right, and not what is merely accepted, for all her life. In 2015, after Dylann Roof shot and killed nine African American citizens in an effort to "ignite a race war", Haley immediately responded by calling him a "person filled with hate," condemning his actions and appealing to the courts to seek the death penalty. She immediately labeled the shooting at the Emanuel African Methodist Episcopal Church in Charleston a hate crime.
Haley then made waves by removing the Confederate flag from the state Capitol Building, where it had flown since the early 1960's. The Confederate flag has been a constant source of contention since then – some view it as a source of heritage, while others believe it represents hate and racial divide. Haley stood firm in her decision to remove the flag from the Capitol, saying "This flag, while an integral part of our past, does not represent the future of our great state." She introduced legislation to remove the flag five days after the shooting, signing it into law on July 9th, 2015.
Haley is also bold. She speaks her mind and does not shy away from issues that others might view as tough. Which is probably why the Republican Party chose her, above older and more established party members, as their respondent to the final State of the Union Address that President Barack Obama gave in 2016. She called out the president, stating that while he was an extremely eloquent speaker, "The President's record has often fallen far short of his soaring words."
Haley is nothing if not fair, though. Her hard-hitting statements during her response not only called out Democratic leadership but members of her own party as well. "There is more than enough blame to go around," said Haley in her speech. "We as Republicans need to own that truth. We need to recognize our contributions to the erosion of the public Trust in America's Leadership. We need to accept that we've played a role in how and why our government is broken."
Her ability to stand against what is morally wrong and actually enact change is what drew attention to her as a Vice Presidential candidate for not one but two Presidential candidates. She was considered to be on the short list for both Mitt Romney in 2012 and Donald Trump in 2016. Technically she was never named, but it's not hard to see why someone would want her on their ticket.
While she might not have been tapped as Trump's VP, she was tapped for another honor. Trump named Haley as his nominee for the United States' Ambassador to the United Nations. Her ability to seek the diplomatic resolution is what drew Trump to her in the first place. "Governor Haley has a proven track record of bringing people together regardless of background or party affiliation to move critical policies forward for the betterment of her state and our country," said then President-Elect Trump when he appointed her in November.
Since becoming the Ambassador, Haley has been on the ground and in the public eye, helping during relief missions in Syria and condemning the actions of those responsible. She has continued her trend of making hard-hitting statements, calling out Russia in her first week on the job. She has been much more visible than Secretary of State, Rex Tillerson, which has led many to believe that she is beginning to pad her resume for a shot at the White House in 2020.
While Ambassador Haley has stated that she has no presidential aspirations, many believe she will be a frontrunner in the upcoming presidential election. When you look at her track record, it's not hard to see why people want her in the race. She unifies and upholds bipartisanship and can get things done. Pragmatically, she's well liked by many key demographics that Republicans have been missing the mark on.
Most importantly, though, she is a strong woman of color who has made a name for herself in a field dominated by white men. So what are her political betting odds to win the 2020 presidential election? +5000. But Trump's odds weren't favorable either, in the beginning. Keep checking in with Political betting odds to see exactly where Nikki Haley stands in the race to the 2020 presidential election.
Best Political Betting Sportsbooks