Betting on Trump on Twitter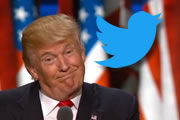 The reality star turned Commander-in-Chief Donald Trump is known for a great many things. One he is most infamously recognized for is his ability to tweet the latest and greatest that is running through his head. From a cryptic message of "covfefe" to incendiary tweets aimed at foreign powers both allied and foe, President Trump is more active than most millennials on the social media platform.
So of course, there are now ways in which you can bet on Mr. Trump's Twitter activity. At BetOnline, there are currently prop bets on whether or not our President's Twitter handle will see a flurry of activity this coming Thursday, June 8th, when former FBI director James Comey will testify before the United States Senate.
This is part of the ongoing investigation set up by the Senate Intelligence Committee, in order to uncover the truth behind the allegations of Russian interference during the 2016 election. The Senate Panel is also looking into any possible ties between the Kremlin and Trump.
Controversy was sparked when Trump promptly fired Comey. While White House officials stated that he was fired on the recommendations of Attorney General Jeff Sessions and Deputy Attorney General Rod Rosenstein, but Trump later contradicted this in an interview with Lester Holt.
"I was going to fire Comey," The 45th president told Mr. Holt. "Regardless of the recommendation, I was going to fire Comey." Whether POTUS just wanted to take credit for the controversial action or he was getting nervous about where the Russia investigation was headed is yet to be determined. The investigatory panel hopes that the former FBI director's testimony will shed some light on this. Comey's testimony on June 8th will be his first public statement after being fired.
Whether or not Comey will crack open the case with incriminating evidence is yet uncertain, but whether or not Trump will also be testifying – via social media accounts – is a foregone conclusion. So certain are people that our President will be tweeting his responses to Comey's claims, that there are betting odds on the exact language that the President will use.
If you head to BetOnline now, you'll see that there are props on whether or not Trump will use the former FBI Director's name more than two times (the odds are favoring the under in that particular prop).There are also totals on how many times Mr. Trump will tweet the words "fake", "dishonest", or every super trustworthy and not at all shady person's favorite phrase, "believe me".
So, what exactly are the odds that Donald Trump will tweet during Comey's testimony? Right now, if you bet that he'll use the word "Fake" more than 2 ½ times, you've got +140 betting odds. These political betting odds are just the first in a series that will probably expand as the date of the hearing grows closer. Comey will have one open and one closed session before the Senate investigatory panel, but Donald Trump's Twitter handle will be open throughout both, so we know we'll have at least a few inflammatory remarks rolling in as the hearings progress, 140 characters at a time.
As the case comes to light, the odds on POTUS's exit date from office might shorten immensely, especially if what Comey said about having incriminating evidence regarding the Michael Flynn debacle turns out to be true. For those political betting odds, head over to Bovada, where there are lines on what year Trump will exit the white house. The favored line right now is 2020 or later at +120, but 2017 is a close second at +140. If you're not into specifics, you can just bet on a simple prop like "Will Donald Trump Complete a Full Term as POTUS?" No is favored at -155.
Best Political Betting Sportsbooks