Donald Trump Betting Odds Guide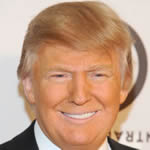 Donald Trump is an American businessman and real estate tycoon who was born on June 14, 1946. He grew up relatively privileged, with a father who was a developer and owner of working and middle-class apartment buildings. Trump was initially an unruly, rebellious teenager, so his dad sent him to military school when he was 13. He thrived in this environment, becoming active in sports and in general learning discipline. Trump went to the University of Pennsylvania and graduated with a degree in economics in 1968.
Once he got out of college, Trump decided to join his dad's company. He father trusted him to run the business, and was given control of Trump Management Co. in 1974. In 1980 he renamed it The Trump Organization. Trump's father loaned him some money in the mid 1970s, and he went into business in Manhattan. He became involved in some enormous real estate projects. He bought casinos in Atlantic City in the 1990s, but when the market collapsed in the early '90s, his net worth fell to $500 million from $1.7 billion. He took many loans and was able to bounce back to a net worth of $2 billion by 1997.
Besides all of his major building projects, Trump has a firm hand in entertainment and media. He was the star of the reality TV show The Celebrity Apprentice starting in 2004. He also owns TV production companies, Trump Vodka, Trump Golf, a bar, an ice cream parlor, a line of menswear, restaurants, the Trump board game, and on and on. Is there anything that Donald Trump doesn't own? He owns sports teams, beauty pageants, and has written several books, including The Art Of The Deal. Now his sites are set on the presidency of the United States.
What Are The Odds Of Donald Trump Becoming President?
Months ago, when you looked at the odds for betting on politics you would have seen that Trump had a very slim chance of winning in the odds makers eyes. Fast forward to 2016 and Trump remains popular among a many Republicans. The problem is if he gets the Republican nomination, the odds are still against him. In a recent poll, fifty percent of Americans said they would be embarrassed to have Trump as President. Even fellow Republican rivals have chastised Trump for his insensitive comments about women and immigrants. Another note of interest is that many Trump supporters have said that they would still vote for him even if he were to run as an independent. If this happens, votes could be pulled away from the GOP, guaranteeing a Democratic victory. The bottom line is that the Republicans need to get their ducks in a row if they want to have a chance to take the white house in 2016. Currently, Donald Trump and Marco Rubio are neck-in-neck to cinch the GOP nom, with Rubio at a slight advantage. Bovada puts Trump's odds at +200, and Rubio at +160. The two are tied at +200 according to BetOnline. As far as the actual election is concerned, Bovada puts Trump at +400 and BetOnline locks Trump and Rubio in a +500 tie. Donald Trump is still the favorite with odds of -145.
Betting On Donald Trump at SportsBetting Sportsbook
Donald Trump has surpassed everyone's expectations thus far in the 2016 presidential race. The billionaire real estate mogul is now the clear front-runner for the GOP nomination. His odds have now surpassed Marco Rubio's, making him the favorite to be the Republican candidate for 2016. You can find all the odds and more at SportsBetting.ag, one of the greatest sports betting sites in the world. SportsBetting.ag lists Trump's odds at +140 to win the GOP nomination and +350 to be the next president. As the race goes on, you bet that SportsBetting.ag will have some of the best and most frequently updated odds for Donald Trump and all the other hopefuls as well.
SportsBetting.ag is one of the longest-running online sportsbooks in the business, having started in 1991. The Panama-based site is free to join, and you will even get a bonus of 50 percent just for signing up! This means that half of your plays on your first deposit will be free. You just have to deposit the minimum of $25 and no more than $500. Claiming your bonus is easy. All you have to do is go to the "promotions" page and find the correct promo code for the welcome bonus, which you must include in an email when you make your deposit. It's a great way for fans of The Donald to get started with this awesome online sportsbook! Join SportBetting Now!
Donald Trump On The Issues
Pros
It is undeniable that Donald Trump has a hold on at least a certain segment of the American populace. He is confident, brash, and candid. He has a strong presence in the media, who hang on his every word. His supporters are very passionate. His lack of political experience would normally be a drawback, but for Trump's supporters it's a plus. He has endless amounts of money to spend on his own campaign, as well as the media coverage to get his message out there. He enjoys the attention, and many people see him as a leader and a man of strength.

Cons
Trump tends to change his positions depending on who is paying attention to him, unlike the other hardline conservatives who stick to political ideals. He was once a supporter and friend of Hillary and Bill Clinton. Trump gave a large sum of money to the Clinton Foundation. The Clintons even attended Trump's 2005 wedding reception. In 2008, Trump wrote that Donald Trump would make a great president or vice president. Now, though, Trump is constantly insulting her and slamming her on national TV. Trump has also changed party affiliations many times. He was a Democrat until 1987, a Republican from 1987-1999, joined the Reform Party from 1999 to 2001, switched back to the Democrats again from 2001 to 2009, and now is of course running for president as a Republican.
Best Donald Trump Betting Sportsbooks