There Are Odds That Donald Trump Will Get Impeached Before The Year Is Up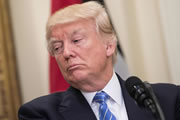 On January 20th, 2017, at approximately 11:47 am, Donald J. Trump became the 45th President of the United States. When he took the oath of office, his overall approval rating hung somewhat low, much lower than his predecessors' at the same point in time. Since then, it has had only one trend – down. Trump's approval ratings have hit almost historic lows.
So it should come as no surprise that there are already betting odds on when Trump will be impeached. This president has had a very rocky start to his presidency, which began with worldwide protests on the day of his inauguration. Currently, online gambling sites are putting proposition betting odds on will Donald Trump be impeached before the New Year, or the over/under on how many days Donald Trump will remain in office. Let's take a look at what he's done so far to earn political betting odds like these.
President Trump has been in the White House for 116 days, and so far, things have been…contentious, to say the least. Of those 116 days, Trump has spent 25 of those days at his private club in Palm Beach, Mar-a-Lago. That's about 22% of his time in the White House spent on vacation to date.
While he has been in Washington, Trump has spent his time in office penning a number of executive orders. 29, to be exact. That's in addition to his 25 presidential memoranda, and 24 presidential proclamations. That seems like a lot, right?
So let's put this in some context. After the first two weeks in office, President Trump was actually just below the pace that his predecessor, President Barack Obama, had set (Obama had signed 12 executive orders in two weeks, while Trump had signed 10). But like many others before him, Obama backed off after those two weeks. Trump did not. He maintained a breakneck speed through his first 100 days, leading to the signing of 29 executive orders. That's more orders signed than any sitting president of this millennium (or in the last 50 years).
President Trump has stirred up protests, anger, and concerns from people on both sides of the board. His 100 day promises included confirming Neil Gorsuch as an associate justice of the Supreme Court, repealing the ACA (more commonly referred to as ObamaCare), and getting rid of the Dodd-Frank Wall Street Reform and Consumer Protection Act. While he made progress on one of these things, he did not repeal the ACA and did not have Gorsuch confirmed, despite having a Republican majority in Congress.
In additional to failing to make good on his pledges, Trump also fired Tomahawk missiles at Syria without congressional approval, introduced a tax reform that would add to the national deficit, has been accused of leaking information to the Russians, and, most recently, has fired the director of the FBI in the middle of his investigation into the accusations against President Trump.
So it really isn't very hard to imagine why people are already thinking of impeachment. Oddsmakers seem to think that it is a matter of when, rather than if, because all of the propositions currently available focus on the number of days President Trump will serve in office or when the actual impeachment will happen. There are still 1,266 days left until the 2020 election, so keep that in mind when you look at these political betting odds.
Impeachment betting odds and other political betting odds will continue to appear at online sportsbooks like Bovada and BetOnline throughout the year. So you'll be able to bet on pretty much anything Washington does.
Best Political Betting Sportsbooks