Comeygate: Donald Trump's Impeachment Odds Shorten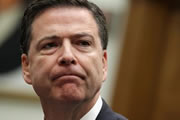 Hot on the heels of the controversial sacking of FBI Director James Comey, President Donald Trump's impeachment odds have drastically shortened.
On Tuesday, President Trump issued a letter to Comey explaining that it was in the best interest of the public to find a new FBI director that would be able to restore public trust. The letter claims that his dismissal came after the recommendation of Attorney General Jeff Sessions and Deputy Attorney General Rod Rosenstein, but a recent interview with NBC News would indicate otherwise. The President told interviewer Lester Holt that his mind was already made up regarding the termination.
"I was going to fire Comey… Regardless of the recommendation, I was going to fire Comey."
Who Is Jeff Comey?
The former FBI Director was leading the investigation into the Trump campaign's ties with Russia. Earlier this year, it was found that former National Security Advisor Mike Flynn had spoken with Russian Ambassador Sergey Kislyak regarding sanctions just a month before Trump took office. Flynn was also in charge of handling the Hillary Clinton email scandal, which is what Trump is citing as his cause of dismissal. The situation is eerily reminiscent to how former President Nixon handled Archibald Cox as a result of his Watergate investigation.
#Comeygate and Impeachment
The timing of the firing is not only drawing attention from elected officials, but also online bookmakers. Since #comeygate officially entered the Twittersphere, books have seen the odds for Trump leaving office in 2017 plummet. One betting comparison site stated that before the scandal, 58% of bets were placed on Trump leaving the Oval in 2020 or sometime thereafter. After giving Comey the boot, 60% of bets are on POTUS making his exit in 2017.
Over at Bovada online sports betting site, the Donald Trump leaving in 2020 is the still the favorite with -120 betting odds, but Trump's odds to leave in 2017 have been shortened to +250. Donald Trump's odds to complete a full term as POTUS are even money, which is a huge shift considering they were once at +300. Trump currently has +125 odds of being impeached his first term, versus +400 shortly after his inauguration.
Who knows if Comeygate will lead to the 45th Leader of the Free World getting impeached, but the political betting odds are in favor of the White House going back to blue in 2020, with -155 odds of the Democratic Party winning the 2020 US Presidential Election.
Best Political Betting Sportsbooks