Paddy Power Hires Full-Time Bookie for Bets on Trump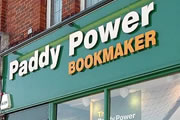 Offering bets best described as quirky at best, tasteless at worst, is nothing new to controversial but wildly popular UK and Ireland-based bookmaker Paddy Power, but the company could be onto something yuuuuuuuge with its newest hire.
Joe Lee started his new job last week as the world's first full-time bookie whose sole responsibility is figuring the odds on Donald Trump-related bets. Lee beat out more than 100 applicants from all over the world for the job, which he will have as long as Trump is president. One of Lee's competitors even used to work at a Trump casino.
Lest the reader think Paddy Power is way off-base by employing a dedicated Trump bookmaker, the Dublin company learned the hard way what can happen when The Donald isn't taken seriously. Fact is, Trump's election threw a kink in the works for many a bookmaker worldwide, including Paddy Power, who offered political betting odds of 250-to-1 that the billionaire reality TV star and real estate developer would be defeated.
To say Paddy Power lost bigly on that proposition is an understatement; you might even say it ranks as one of the worst deals in history. Paddy Power was so sure of the presidential betting odds predicting Hillary Clinton would defeat Trump that bookies cut checks to the "winners" two weeks early. That didn't work out so well for Paddy's who ended up having to pay out just about £4 million to just five bettors – one who wagered £25,000 at 4-to-1 odds the day before the vote - who liked Trump in the race for the White House.
The company wound up losing a shade less than £1 million in the 2016 elections, so hiring Lee, who has 15 years' experience as a bookmaker under his belt, can be seen as Paddy Power hedging its bets. It can just as easily be seen as yet another of the controversial company's infamous trolling operations, which included bets on the first animal to go extinct after the Deepwater Horizon oil spill and physically painting a jockey on the ancient White Horse carving at Oxfordshire. It certainly wouldn't be Paddy Power's first foray into offering bets on US politics either. In 2008, the bookmaker drew heat for offering a prop bet that the recently elected Barak Obama "wouldn't finish his term in office," later confirming that it would pay out if Obama had been assassinated.
In keeping with that tradition of outlandish bets, Paddy Power is offering specials on everything from whether or not Trump will be impeached over alleged links to Russia (4/6) or grow a Hitler mustache (66/1), or even if France will demand the Statue of Liberty be returned (50/1). Lee apparently scans The Donald's Twitter feed for juicy tweets from the night before as he decides whether to add another prop bet to the growing tally. However wild these lines might seem, Trump's election alone was seen as a truly staggering, almost unthinkable occurrence all over the world, but the British betting public seemingly couldn't get enough, laying 50,000 bets on the US election, nearly twice the amount placed on the Brexit vote.
For his part, Lee told British news tabloid The Sun that he thinks Trump will likely "finish" his term in office, but a second four years might not be in the cards if the right candidate (pro wrestler Dwayne "The Rock" Johnson, for instance) ran against him. I guess in the world we live in today, anything can happen, and Paddy Power knows better than most what happens when you don't bet on the underdog.
Best Political Betting Sportsbooks