Got blocked by @realDonaldTrump? Betting Odds Show Two Can Play That Game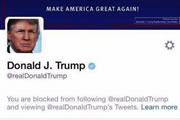 With all the "fake news" swirling in the political world, it can be hard to know what to believe. One thing that is for certain is that reality-star-turned-president Donald Trump spends more time on Twitter than any other official elected to his position.
In the six months since Trump was elected, his favorite Twitter topics have included fake news, Obamacare, Democrats, and Russia. Though POTUS prefers to use the social media platform as his main mode of communication on pressing issues, he does not respond well to his naysayers.

Trump Blocking Spree

Trump has been in the spotlight for shamelessly blocking all of his vocal critics, the most recent blockee being model Chrissy Teigen. With users being blocked left and right, WIRED senior editor Kevin Poulsen created a web app to exclusively track those that fall prey to Trump's Twitter blocking spree.
President Trump's behavior has prompted free speech advocates to consider the larger implications of the Leader of the Free World limiting what citizens can say to him. The Knight First Amendment Institute has filed a lawsuit against Trump and two White House aides, alleging that blocking users from the @realDonaldTrump feed violates their first amendment rights by barring them from a public forum.
"President Trump's Twitter account… has become an important source of news and information about the government, and an important public forum for speech by, to, and about the President," the lawsuit said. "In an effort to suppress dissent in this forum, Defendants have excluded — 'blocked' —Twitter users who have criticized the President or his policies. This practice is unconstitutional, and this suit seeks to end it."
Whether or not the lawsuit will gain any traction has yet to be determined, but it has become clear that all of Trump's controversies are beginning to have a domino effect. As Trump gears up to have his travel ban case heard by the U.S. Supreme Court, the Twitter lawsuit paired with the Donald Jr.- Jared Kushner Russia developments will certainly not help how the President is received.

Twitter-Inspired Betting Odds

On another front, online bookmakers have also been staying on top of Trump's latest Twitter rants. The President has made his displeasure with Attorney General Jeff Sessions quite apparent, blasting the White House official on his Twitter Wednesday morning:
Why didn't A.G. Sessions replace Acting FBI Director Andrew McCabe, a Comey friend who was in charge of Clinton investigation but got....

— Donald J. Trump (@realDonaldTrump) July 26, 2017

...big dollars ($700,000) for his wife's political run from Hillary Clinton and her representatives. Drain the Swamp!

— Donald J. Trump (@realDonaldTrump) July 26, 2017
With tensions brewing, you can find a variety of Jeff Sessions betting odds over at the Bovada online sportsbook. There are -150 betting odds that Jeff Sessions will not be the Attorney General on January 1st, 2018, and -120 betting odds that Jeff Sessions will leave the Trump administration first.
Along with Donald Trump's betting odds to win the 2020 US Presidential Election (+250), you can now find political betting odds on if Twitter will suspend @realDonaldTrump in 2017. The odds are in Trump's favor with -800 odds that his account will remain active, but his election has shown us all that anything is possible. You can bet on the demise of President Trump's Twitter fingers at +500 betting odds.
Best Political Betting Sportsbooks