Is Oprah Really Going To Run For President?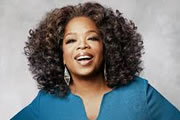 Ever since her televised speech during the 2018 Golden Globes, people have been seriously asking themselves, "Is Oprah really going to run for President?" Naturally, various bookmakers and online betting shops have run with the hype, and several are now offering odds on whether or not the famed talk show host and media mogul will actually throw her hat into the ring. According to a few close friends of Ms. Winfrey, she's been actively considering running for the nation's highest office since The Donald broke the media and the political class into a million pieces last year.
Right now, Bovada is political betting odds on Oprah's decision to run in 2020, where a "yes" bet pays out +130. Of course, her official candidacy is still considered an underdog outcome, with the "no" wager currently sitting at -160. That said, Oprah would be a wildly popular candidate in this age of celebrities mattering way more than they should, and – at least in my opinion – she's very likely to at least test the waters. On the other hand, Kamala Harris is polling well as the Democrat heir apparent to the throne, and it's difficult to see Oprah actively undermining another woman of color on the national stage – particularly one who's deemed worthy of holding the highest office after a career in the political industry. At the very least, a Winfrey vs. Harris primary would be uncomfortable for many in this era of heightened tensions and social justice headlines.
So, is Oprah really going to run for President? Personally, I doubt it. After Hillary's "rigged" primary against Bernie Sanders, folks on both sides will be expecting a real competition to crown the Democrat nominee, and the vibe of cahoots – even for someone like Oprah – could be another momentum killer. That said, she might be the only person who Donald Trump can't openly (and legitimately) excoriate on television, which makes her a natural fit for the Big Government machine. If Oprah believes that her legacy can withstand a foray into the evil of governance, she might go for it. It's just a question of how hated she's willing to be.
Best Political Betting Sportsbooks