Trump Tillerson IQ Test And More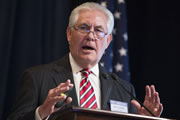 After running the most ridiculous and cynical (and ultimately prescient) American Presidential campaign in generations, Donald Trump – love him or hate him – is nothing if not controversial. He was a marked longshot with most bookmakers, posting at +2500 when he first announced his candidacy before shoring that up to +500 or so at most books by Election Night some 18 months later.
Of course, Donald Trump ultimately won the Presidency in convincing fashion, and many thousands of bettors won big in picking the real estate magnate. In fact, one UK-based bettor is reported to have won $2.5 million over the course of Trump's rollercoaster campaign, which rivals most historical Super Bowl betting hauls. Say what you will about Trump, but the guy makes money.
And many legal online sportsbooks are hoping he'll make even more. As such, Donald Trump is the centerpiece of several services' "Politics" sections, and he's currently the subject of four big bets at Bovada.
Donald Trump vs. Rex Tillerson IQ Test Odds
Recently, Donald Trump was allegedly called a "moron" by US Secretary of State Rex Tillerson. Naturally, Trump took umbrage at that, using his prolific Twitter presence (more on that later) to challenge Tillerson to an IQ test. Besides being hilarious and distracting most mainstream media outlets for a week or so, the idea took off within the betting community. Bovada is currently offering -120 odds on Tillerson winning such a test, while Trump is listed at +100 (or "even") odds to win. Bet against Trump if you want, but I'm skeptical. After all, when has a guy named Rex ever been the smartest guy in the room?
Odds That Trump Ousts Chief Of Staff John Kelly By January 1, 2018
Bovada also has odds on whether or not President Trump's musical chairs of a Cabinet will see any upheaval at the top by year's end. John Kelly, who took the job after Reince Priebus wore out his welcome in just half a year, is the current Chief of Staff, and there is speculation on whether or not his constant (alleged) bickering with The Donald will lead to his ouster by the end of 2017. The current odds are -215 that John Kelly will retain his position through the new year and +175 that he won't.
(Note: Before betting, please understand one thing about the Chief of Staff position: the average time that any given person fills this particular governmental role is just 18 months. Former President Barack Obama, for example, went through five Chiefs of Staff in just eight years.)
Which Party Will Win The 2020 Presidential Election?
Given that both parties lost the 2016 Presidential Election, political betting odds might be a tough call to rely on historical trends to pick the 2020 winner. In most cases, incumbents are extremely difficult to beat at the national level. In fact, the last one-term US President to lose his reelection campaign was George H.W. Bush in 1992.
Still, Donald Trump is a distinct outlier in basically all facets of traditional American politics. He may not even run for reelection. Nobody really knows. Currently, Bovada is offering -150 odds that the Democrat party wins back the White House in 2020, while continued Republican control is at +120.
Will Twitter Suspend @realDonaldTrump In 2017?
The inspiration behind the #TweetForEverything hashtag meme-fest, Donald Trump owes his Presidency to his mastery of Twitter more than any other single factor (with the possible exception of lucking out in the "opponent" department). Twitter, of course, has received nonstop blame for this outcome, and it processes thousands of requests to block the Trumpster each and every day. Naturally, doing so would carry serious ramifications in the modern world of social media, and so far, Twitter hasn't taken the bait.
Right now, Bovada doesn't think it's going to, either, offering -1200 odds that Twitter keeps the leash off through the end of the year. Folks who think Twitter will actually drop the ban-hammer (and they might – it's not like the company makes any money) can get +650 odds if they place their bets today.
Best Political Betting Sportsbooks