You Can Bet On Bernie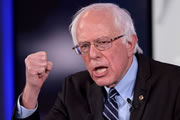 No, literally, you can bet on Bernie to win the 2020 election.
After one of the weirdest elections in US history that resulted in a human Cheeto being named the President of the United States, many people are already looking to the next election. And as Americans are wont to do, we're also gearing up to bet on the election set to take place roughly 1,275 days from right now. Not that we're counting, or anything.
Betting on political events is now as American as apple pie. You can find political odds sitting just one tab over from the New England Patriots Super Bowl odds at any online sportsbook. Vermont currently has no laws that prevent using online, offshore sportsbooks.
I know what you're thinking. Sports betting has nothing to do with political wagering. But hear me out. When we think about sports betting, most brains automatically go to the Super Bowl or at the very least, to a specific sport. But sports betting in and of itself is an umbrella term which can be used to cover something just as exciting – betting on political elections.
So there you have it – betting on Bernie is not just a cute slogan anymore. You can literally bet on whether or not Bernie Sanders will be able to finish what he started in 2016 and win the presidency. Whether you'll be backing your homegrown hero or laying your money on another candidate, betting on politics can be a nice little lucrative side thing you get going once every few years.
In addition to presidential elections, Vermont residents can bet on senate and house races. Based on how things have been going this year, something tells me we might be seeing quite a bit more blue on the board in a couple years. But that's just right now. Also, I'm not a betting expert, so that was in no way betting advice. Just an outsider observation.
Okay, okay, for real now, let's get back to Bernie. Vermont residents will be happy to note that their beloved Senator Sanders is a presumed candidate in the 2020 election. He has some of the best odds heading into the next election, going up against the likes of Kanye West, Will Smith, and Stephan Colbert.
The political outsider almost pulled the coup of a century off last year, nearly earning the DNC nomination before some, shall we say, shady misdoings came to light. Regardless, the senator has been very vocal in his intentions to continue working to bring about the changes he promised on his campaign trail, so the only question that remains is whether or not he's a good bet to make heading into the 2020 election.
If you're not too confident in his ability to pull off the win or don't think he's going to make it to the next election (he is sort of old), there are still plenty of ways to get your political bets in. These political betting odds come in the form of prop bets, and they're very entertaining. Currently, there are odds on whether or not Trump will make it to the end of his term and whether or not he'll actually even make it to the end of 2017 as POTUS.
Best Political Betting Sportsbooks