Kanye For President? West's Odds To Win The 2020 Election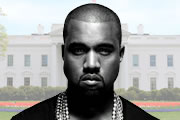 If the previous Presidential election showed us anything, it's that someone with no political experience can win the highest political office in the nation. So, Georgia residents should be happy to know that Atlanta native Kanye West has a shot at the 2020 Presidential election.
The best part about that? You can now bet on his chances of winning the election.
No, I'm not joking. You can bet on the outcome of an election in the US. Isn't that just the most American thing you've ever heard? While there may be a little over 1200 days left in Trump's term, there are already over a dozen different names on the board for the 2020 election. Some you might know – Michelle Obama, Bernie Sanders, Paul Ryan, and Marco Rubio.
Others may surprise you, like Stephen Colbert and Jon Stewart. Mark Zuckerberg is up there, as well as Mark Cuban. Even everyone's favorite alien-fighting rapper turned movie star Will Smith has odds on winning the 2020 presidential election. Kanye's name is listed amongst these many potential candidates, proudly representing his home state of Georgia. West was born in Atlanta on June 8th, 1977.
Kanye's Georgia residency gives him the natural born citizenship required of a US President, and his '77 birth date makes him old enough to run for the presidency. So clearly, there's nothing standing in his way to becoming the 46th president of the United States, right? I mean, it's not like you need political experience or qualifications anymore.
Sadly, not all bookmakers feel the same way. Mr. West currently has the worst odds on the board. At +15000, his odds are more than double every other candidate, which may seem like an unfortunate turn for those political bettors who enjoy backing candidates from their own state.
But don't let those longshot odds deter you. Remember that odds are just reflections of public opinion. Donald Trump had longshot odds throughout his entire campaign, literally leading up to the day of the election, and we see what happened there. Georgia-based fans of the Rapper and possible presidential candidate should not be deterred by Kanye West's odds to win the 2020 presidential election.
In all seriousness, if you are a Georgia resident who enjoys political happenings and wants a way to possibly make a little extra money on elections, you can log on to any online, offshore sportsbook and bet on those elections. Most sites will have lines on these elections far in advance, like futures for the 2020 presidential election. It's not just US campaigns that you can bet on, either. Worldwide political events find themselves with odds all across the board, so you can bet on political action whenever there is an election. US senate and house races are also usually covered by online, offshore sports betting platforms.
While certain celebrity names – Like Mr. West's – are bound to be added to the list, you will also see actual politicians' names up there as well. You can back the candidate you think has the best chance to win, or hedge your bet and lay a few futures, so that no matter who wins you have money on at least one of them.
So Georgia residents, you can bet on anyone you'd like in this election. Whether it's your fellow Georgian Kanye, or someone slightly more qualified, the choice is yours. Betting on politics is just another facet of sports betting. Elections, like championships, will be happening regardless of whether you bet on them or not. So why not make a little money off of political betting odds?
Best Political Betting Sportsbooks