Dwayne Johnson: From Pro Wrestler To POTUS?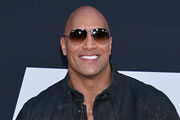 No matter what your political affiliation may be, I think we can all agree that the start of this presidency has been nothing short of a shit storm. With one side saying one thing and the other side saying the opposite, it's been ridiculous trying to sort everything out, and I think we can all agree, we're very tired of hearing about it.
But, we all know that the media will report on nothing but bullshit from both sides, hyping every last detail until you know their side of the story seven ways from Sunday. The newest topic that everyone has latched on to is whether or not Donald Trump is going to be impeached. So, naturally, there are betting odds on when Donald Trump will get the axe. When I was looking these odds up, though, I decided to take a look at the list of potential winners of the 2020 election, at least according to oddsmakers.
The list had your usual suspects, Elizabeth Warren, Paul Ryan, blah blah blah. But then I saw one name that put hope in my heart. This man is an American Icon. He's known all across the world as a pillar of justice, someone to set your moral compass by. When I saw his name, I thought to myself, 'Finally, someone qualified for the job!"
Of course, I'm talking about none other than the People's Champ himself, Dwayne "the Rock" Johnson.
Yes, the former professional Wrestler turned Actor finally has odds to win the 2020 presidential election. What are The Rock's betting odds to win the Presidential Election? Well, they're not exactly favorable at the moment (80/1), but I have faith. He's never let his fans down before – why would he start now?
The 45-year-old was born in Hayward, California, making him a natural born citizen of the United States over the age of 35, the only requirements laid down by law to run for President of The United States. These aren't his only qualifications, though. Let's take a look at the storied career of this potential presidential candidate.
First of all, we're going to have to start with his name. Who wouldn't want a president called "the Rock"? If you're not a fan of that nickname, you might be a fan of another one – while he was wrestling, he made a name for himself as the People's Champion. This should be self-explanatory. We, the people, need a champion, perhaps now more than ever.
He's also a great public speaker. There's nothing the press loves more than a presidential soundbite, and don't we want a POTUS who can express himself well? Mr. Johnson honed his public speaking skills on the national stage, expressing his fervent desire to become the best and remain the best in ever increasingly creative ways. His elocutions skills were then fine-tuned on the big screen, bringing us some of the most beloved movies of today. If we are going to have to be subjected to four years of soundbites, what could be better than those from The Rock?
After spending years in verbal sparring matches with quick-witted opponents, Mr. Johnson has proven that he possesses another useful skill: that he can think on his feet. This is an important skill to have as president. Things happen all the time that throw wrenches into even the best-laid plans. All great leaders need to know how to adjust at a moment's notice, none more than the President of the United States.
He's already well versed in the art of the diplomatic answer. When the topic of the 2020 election was broached, Dwayne Johnson flashed that signature smile and didn't shy away from speaking on the topic – but didn't cozy up to it either. The actor said "A lot of people want to see a different leadership today…a better leadership today, right? I think more poised, less noise."
To further illustrate how he would be the best person to represent the people, he said "I also think that over the years I've become a guy that a lot of people kind of relate to; get up early in the morning at a ridiculous hour, go to work and spend time with the troops, take care of my family. I love taking care of people. And I think that kind of thing really resonates with people, especially today."
Does that not sound like every political non-answer we've ever heard? Hello, it sounds like a line coined directly from a political advisor. He even came up with a slogan already: More Poised, Less Noise.
And while he knows how to be diplomatic when necessary, he also knows when to cut through the double-talk and get his message across. In a spirited exchange with Rusev, a noted Russian wrestler in the WWE universe, Mr. Johnson said exactly what we have wanted to for quite some time. "We don't boo you because you support Russia. We boo you because you're world class international A-holes." Clear, concise, and still kid friendly, as he shortened the curse himself. That's presidential material right there.
There are plenty more reasons and qualifications that I could lay out for you, but I think I've made my point. Whether or not you think he'll win, he could make for some interesting political betting odds. Check out your local online sportsbook to see if his odds continue to shorten. In the meantime, can you smell what the Rock is cooking? It smells like a 2020 presidential run to me.
Best Political Betting Sportsbooks