Bet On The President Knowing Words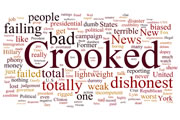 The annual G20 Summit is set to take place on July 7th and 8th in Hamburg, Germany. But what many are focusing on is a different meeting, set to take place outside of the Summit between United States President Donald Trump and Russian President Vladimir Putin.
Representatives for both leaders have confirmed that the meeting will take place on July 7th in Hamburg, outside of Group of 20 Summit meetings. This is the first time that the two will meet in-person since Mr. Trump's Inauguration. According to a spokesperson for Mr. Putin, this will be "planned as a fully-fledged, 'seated' meeting."
There are a number of issues set to be discussed as the relationship between the two Super Powers has sunk to near-Cold War era levels. General H.R. McMaster, the White House National Security Advisor, has sad that Mr. Trump will talk about "whatever the president wants to talk about." Naturally, then, there are betting odds already going up at multiple legal betting sites in anticipation of this sit-down.
Donald Trump's ability to craft an intelligent statement (or at least one where he doesn't make up words) is pretty much called into question any time he opens his mouth. While his, shall we say, interesting statements are always good for a few laughs, they're also pretty good for a few prop bets. At least that's what legal betting sites like BetOnline think.
Now, these prop bets focus on small phrases or words that the President might say during his meeting with Mr. Putin. The way you can win these wagers is if Mr. Trump uses the exact phrase listed by the book, which might be a whole sentence, two or three words, or just a single word. If he only uses a portion of the phrase listed by the book, you would lose the bet.
As the meeting was set to discuss bilateral issues, a Likely phrase to be pulled out during this sit-down is "Barack Obama", as relations with Russia began sliding in 2014 after Moscow's annexation of Ukraine's Crimean Peninsula, during Mr. Obama's Presidency. If Donald Trump uses the former president's full name, you'll win your bet. If he only says "Obama" or "Barack", your bet is a loss.
Other phrases on the board include things like "Great Leader" and "Tough Guy". You'll also see odds for "Comey", "Leak", and "tape/tapes", although these are not favored to be used. Probably because neither Trump nor Putin wants to draw attention to the already high scrutinized issue of Russia's alleged interference in the 2016 election.
If you don't feel confident betting on Donald Trump's ability to string a few words together despite his claims that he "knows words" and that he has "the best words", then you can wager on how long his hand-shake will be (the total has been set at 4 ½ seconds), and whether or not he'll participate in common greeting practices, like hugging or kissing Putin upon meeting. Neither is favored to happen.
More political betting odds are sure to be released throughout Mr. Trump's presidency. Until then, why not place a few wagers of your own on POTUS's words? I mean, he does know them. And they are the best. Why not make a little money off of them?
Best Political Betting Sportsbooks