Ted Cruz Betting Odds Guide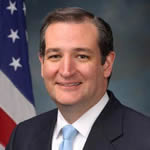 Ted Cruz was born Rafael Edward Cruz in Alberta, Canada in 1970. He is currently the junior US Senator of Texas and currently in the running for the GOP nomination for the 2016 presidency. The son of an American mother and Cuban father, he graduated cum laude from Princeton University in 1992 with a bachelor of arts in public policy. He then attended Harvard Business School and graduated magna cum laude with a Juris Doctor degree. He was a founding member of the Harvard Latino Law Review.
His legal and political career began in 1995, when he worked as a law clerk for the US Court of Appeals, becoming the first Hispanic to work as a clerk for US Chief Justice. He then took a position at a law firm, where he worked closely with the NRA and helped prepare impeachment testimony against President Clinton. He also worked as private counsel for Congressman John Boehner. Cruz was a domestic policy advisor to George W. Bush, was an associate attorney deputy general in the US Justice Department, and policy planning director at the US Federal Trade Commission. Cruz served as Texas Solicitor General from 2003 to 2008. In 2012, Cruz won a seat in the US Senate, where he sponsored 25 bills on his own.
What Are The Odds Of Ted Cruz Becoming President?
When you look at the current political betting odds, Ted Cruz has the third-best chance to win the Republican nomination. At +290 according to Bovada and +250 according to BetOnline, Cruz trails slightly behind Donald Trump at +200, and Marco Rubio at +160 (Bovada) and +200 (BetOnline). Not bad at all when you consider that the GOP is overcrowded with hopefuls. However, his odds of actually becoming president are quite a bit lower (+800). His main problem is that he appeals to the most right-wing faction of the GOP. He doesn't have strong support among independents and non-Evangelicals. The other problem is that he doesn't have the rabid, passionate fan base of a Donald Trump. A running theme of this race so far is the disenchantment many voters, both conservative and liberal, feel toward the political establishment. While he may be able to gain some of the Hispanic vote because of his Cuban-American background, he is going to be tough sell for African-Americans and women. Right now, Cruz is far from out of the game, but he isn't running as strong as Donald Trump or Marco Rubio. Whoever the Republican nominee is will have to compete against Ted Cruz, who is currently favored to win the election. Can Ted Cruz reach out to more than just the GOP fringe? That is the question.
Betting On Ted Cruz at Bovada Sportsbook
Ted Cruz is gaining a lot of support in the upcoming presidential race, especially from conservative evangelical Christian voters. If you want to put money on Cruz to win the presidential race, Bovada is a great place to do so. It is one of the coolest online sportsbooks for political betting odds, and it accepts players from every state in the US! So forget about that trip to Vegas you were planning. You're just going to end up spending unnecessary money on gas or airfare, hotel rooms, and parking. You can avoid all of that by joining Bovada and using their amazing sportsbook!
Bovada is one of the only online sportsbooks that offers a reduced juice bonus. If you take advantage of this amazing offer, the juice, or interest, that you must pay will be cut in half. Instead of paying ten percent juice for every bet, you're only paying five. You don't see this great deal every day. One of the best things about it is that you can keep on using it again and again, no matter how many bets you make. Another cool thing about reduced juice is that there is no rollover requirement, so you don't have to spend a certain amount of your deposit money before you can use it. It's a really good deal, and it's only at Bovada! Join Bovada Now!
Ted Cruz On The Issues
Pros
Ted Cruz enjoys strong support from conservative Evangelical Christians. His support from the Tea Party remains high. Cruz has done a great job playing to the most extreme factors of the GOP. Issues like same-sex marriage, abortion, and gun rights are important to many American voters, especially on the right-hand side of the political spectrum. Ted Cruz also has quite a bit of political experience, a stark contrast to Donald Trump and Ben Carson. Unlike Trump, Cruz has proven himself to be a calm, reasoned, and articulate debater.


Cons
While Ted Cruz definitely has some support from hardline conservatives, he is going to have to try to reach out to a broader group of voters. Even some Republicans do not agree with his hardline stance on issues like immigration. Republican John McCain said that Cruz's views do not reflect those of the majority of the GOP. Some voters may be put off by his anti-immigration rhetoric, especially since Cruz is the son of a Cuban immigrant.
Best Ted Cruz Betting Sportsbooks