Marco Rubio Betting Odds Guide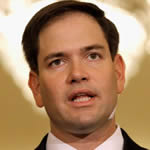 Marco Antonio Rubio is a United States Senator from Florida and a former Speaker of the Florida House of Representatives. He is a graduate of the University of Florida and the University of Miami School of Law. His career in politics began in the late 1990s, when he became a Miami City Commissioner. After he was elected to the House of Representatives in 2000, he became House Majority leader just a few years later. During his time as Speaker of the House, Rubio drafted a comprehensive plan of "innovative ideas for Florida's future." About half of his ideas were signed into law.
Rubio left the Florida legislature in 2008 and started a law firm. When he was running for the US Senate, Rubio received quite a bit of support from members of the Tea Party. He is currently competing against Ted Cruz, Donald Trump, Ben Carson, Chris Chirstie and others for the GOP presidential nomination.
What Are The Odds Of Marco Rubio Becoming President?
While Marco Rubio's chances of becoming president are not great, he is certainly still in the running. Right now, it's looking to be a showdown between Rubio and Donald Trump. Trump's political betting odds have improved during the last month or so, but Rubio is still holding his own. Currently, Bovada puts Rubio at +160 versus Trump's +200. Popular oddsmaker BetOnline lists Rubio and Trump with odds of +200. Rubio's chances of actually taking the white house are +500 versus Marco Rubio's -145 according to BetOnline, and +800 versus -140 according to Bovada.
Betting On Marco Rubio at Bovada Sportsbook
Marco Rubio has a real chance to be the next GOP presidential nominee, and there is no better place to bet on him than Bovada. It is one of the very first and best online sportsbooks, based in Quebec, Canada. Players from most states are welcome to join, and it costs nothing at all. Bovada includes easy deposit and payout methods for you to use, plus bonuses and great features like mobile and live betting. The sportsbook is orga9nized in a way that makes betting fun and easy. You don't have to futz around with your lousy math skills, because Bovada's sportsbook includes a betting calculator.
Bovada is one of the safest online betting sites in America. They have a gaming license and are regulated by Canada's Kahnawake Gaming Commission. A few years ago, Bovada received the commission's famed Certificate of Good Standing, which is only awarded to the very best online gaming sites. Bovada's security features make the site a fortress of impregnability. The site uses firewalls and encryption. All traffic in and out of the site is heavily monitored. Bovada's security team are constantly updating the techniques on the site to keep up with hackers. You will have absolutely nothing to worry about when it comes to Bovada and safety. Join Bovada Now!
Marco Rubio On The Issues
Pros
For conservative voters, Marco Rubio is a safe choice. He doesn't engage in bizarre antics like Donald Trump or Ben Carson. He is a professional politician with solid conservative cred. He is also a young, fresh face. He may be able to garner some of the Latino vote because of his Cuban heritage. So far this election season, Rubio has been playing it smart, focusing on the issues, not taking the bait or getting into petty squabbles a la Donald Trump and Marco Rubio. Rubio went so far as to criticize Trump for his offensive comments about Muslims after the terrorist attack in San Bernardino. If Rubio can stay calm and just focus on the issues and let Trump burn himself out, he may just win the GOP nomination.

Cons
One of Marco Rubio's biggest disadvantages may be his age. Traditionally, Republicans tend to like candidates who have been in the game for a while, and Rubio isn't quite the grizzled old vet, not by a longshot. In addition, although he is, along with Ted Cruz, one of the more conservative candidates vying for the Republican nomination, he has clashed with the GOP base on several major issues. Take taxes, for example. Rubio bills himself as a fiscal conservative, yet lobbied for a sales tax increase. He also supports an immigration reform plan that would allow illegal immigrants the chance to gain citizenship, a platform very few Republicans agree with.
Best Marco Rubio Betting Sportsbooks