Jeb Bush Betting Odds Guide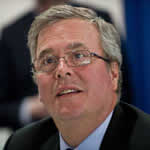 Jeb Bush was born John Ellis Bush in Midland, Texas in 1953. From 1999 to 2007, he was the governor of Florida. The son of former president George Herbert Walker Bush and the brother of former president George W. Bush, Jeb grew up in Houston, Texas. When he was 17, he helped to build a school in Mexico, where he met Columba Gallo, who would later become his wife. He got his degree in Latin American Affairs from the University of Texas. When he moved to Florida in 1980, he started out in real estate development. He was Florida's Secretary of Commerce from 1986 to 1988.
His entry into the world of politics began when he helped on his father's campaign in 1980. He tried unsuccessfully to run for governor of Florida in 1994 against Lawton Chiles. He finally won when he ran again in 1998 against Democrat Buddy MacKay. He was re-elected in 2002, becoming the first-ever two-term Republican governor in Florida history. Bush left office in 2007 because Florida law prevented him from running for another term. He has been active in politics ever since.
What Are The Odds Of Jeb Bush Becoming President?
This is interesting. Jeb was once considered the front-runner for the Republican nomination…until a little-known real estate developer dropped in and crashed the party. Now Jeb's betting odds for this years election have fallen some, to get the nomination they are +800 (Bovada) and +1,000 (BetOnline). His odds to win the presidency are, of course, even worse (+2,500 according to Bovada and +3,300 according to BetOnline). Unfortunately for Jeb, his latest ad campaign ("Jeb can fix it") has made him the butt of many a joke as of late. The slogan doesn't so much suggest a way to fix the country, but rather seems an ironic commentary on the former governor's sinking poll numbers.
Betting On Jeb Bush at Bovada Sportsbook
Over two decades after it first started, Bovada continues to be the number one go-to site for serious and novice bettors alike. There are many Jeb Bush fans throughout the United States, and they use one site and one site only to do all of their political betting. That site is Bovada. This awesome Canada-based sports betting site is equipped with the latest and safest security features. You will be able to save a whole lot of money using one of Bovada's myriad of bonuses. Plus, with great features like mobile betting, you will be able to bet on politics no matter where you are. Just sign in to Bovada's mobile page and you are ready to go.
Bovada provides several great options to fund your account. Credit or debit card is the one that most people use. It's easy to see why, too. It takes but a few minutes for your transfer to go through. The minimum is $25 and the maximum is $1,000. The fee is a very low 4.9 percent, which is way below average. Visa and MasterCard are the two accepted card types. Another popular deposit method is Western Union, which takes between two and three days, and has a minimum of $100 and a maximum of $5,000. Luckily, there are no fees on deposits in excess of $300. For other amounts, 4.9 percent is the standard, which is still a good deal. Join Bovada Now!
Jeb Bush On The Issues
Pros
Bush is a definite name brand candidate. He has experience in office, and he is moderate enough not to create too much controversy. He is known as one of the more intelligent and political-savvy members of the Bush family. He and his family have tons of money to spend on campaigning. The fact that his wife is Hispanic and Jeb speaks fluent Spanish could draw the Latino vote. For voters who are sick and tired of partisan attacks and name-calling, Jeb has a much more optimistic and hopeful demeanor.

Cons
At this point, Jeb's negatives outweigh his positives. He has several major problems. First, many Americans are weary of having another Bush in office after the debacle that was the George W. presidency. Second, Jeb is too moderate for today's Tea Party-leaning Republican Party. His stance on immigration is far too sympathetic for a party that leans toward the Donald Trump/Ted Cruz way of thinking. Also, many GOP voters see Jeb as too intellectual, too much of a political establishment candidate…in other words, not a man of the people. You can imagine having a beer and hanging out with George W., but not Jeb.
Best Jeb Bush Betting Sportsbooks