Hillary Clinton Betting Odds Guide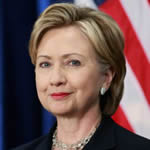 Hillary Clinton was born on October 27, 1947 in Chicago. She was interested in politics from an early age. During her college years, she described herself as "a mind conservative and a heart liberal." She was raised in a conservative Methodist family, and was a supporter of Richard Nixon and Barry Goldwater. Clinton majored in political science at Wellesley College and served as a Young Republican. Next, Hillary attended Yale Law School. She met fellow student Bill Clinton in 1971. She then began interning at a law firm known for radical left-wing causes. In 1974, she was on the impeachment inquiry staff against Richard Nixon.
Hillary married Bill Clinton in 1974. She served as First Lady for eight years during Bill's presidency. She was the only First Lady up to that time to have her own professional career and have a post-doctorate degree prior to her time in the white house. She chaired the Task Force on National Health Care Reform, and was a major factor in passing the State Children's Health Insurance program. She accomplished many other things during her time as First Lady, including creating the Office on Violence Against Women.
In 2000, Clinton became a New York Senator, a career milestone that lasted until 2008. When Barack Obama was elected president, he made Clinton his Secretary of State. She has been outspoken on women's rights, visited 112 countries during her time served, and has proven herself as a foreign policy dynamo. Currently the front-runner to win both the Democratic nomination and the presidency, Clinton remains extremely popular despite controversy revolving around her private email server and her handling of the siege by Islamic militants in Benghazi that killed four Americans.
What Are The Odds Of Hillary Clinton Becoming President?
Hillary Clinton remains the front-runner for both the Democratic nomination and the presidency. She continues to enjoy overwhelming support from Democrats, unlike the Republicans, who have too many candidates attacking each other all the time and their political betting odds refect that. As long as she stays quiet and rides out the political season, she should be fine. She should probably avoid taking the bait when Donald Trump insults her and her husband, though. Otherwise the Trump-Clinton insult-fest might develop into a full-blown circus act. As it stands, though, Clintons odds of winning the Democratic nomination are -1200 and -150 to win the presidency.
Betting On Hillary Clinton at Bovada Sportsbook
There is no better place for people to bet on Hillary Clinton for the 2016 presidential race than Bovada. It's the number one online sportsbook for political betting odds. Hillary Clinton currently has the best chance to take white house in 2016, and Bovada is where you will find the most current and up-to-date odds on Hillary and all the other candidates. This site is safe, legal, and vetted, having been around for more than two decades. Unless you live in New York, New Jersey, Delaware, Nevada, or Maryland, you can join as long as you are at least 18.
Bovada's sportsbook is comprehensive and easy to use. In their section on politics, you can bet on the Democratic nomination, the Republican nomination, and who will become president. With odds of -120 to win the election, Hillary's looking pretty good so far. You can use Bovada's handy odds calculator and plug in various numbers to see how much you will win if you risk a certain amount. Bovada makes it so you don't have to be a math wiz to figure out the numbers. Simply visit Bovada today and sign up, and you can take advantage of everything this great online sportsbook has to offer. Join Bovada Now!
Hillary Clinton On The Issues
Pros
Hillary Clinton is the most well known of all the presidential candidates aside from Donald Trump, and she has by far the most political experience of any of them. The Democrats are overwhelmingly supporting Clinton. She has a lot of support among female voters and African-Americans. She has an unlimited supply of money from various corporate donors to run ad campaigns and get her name and message out to the voters. One reason many people support her is that she has been in politics for so long and has so many political connections. The fact that her husband was such a popular president also works in her favor.

Cons
For many Democrats, Clinton is too moderate and too much of a politician. She is perceived by many as being rather phony and an overall attention-seeker. The fact that Washington outsiders like Hillary Clinton and Donald Trump are so popular is evidence that many American voters are fed up with the status quo. The biggest problem she has is that many people do not trust her. Whether you think her email debacle and her handling of the Benghazi terrorist attacks are major issues or much ado about nothing is beside the point. Her image is tainted in many peoples' minds, and the Republicans have done a good job of keeping the focus on these negative issues.
Best Hillary Clinton Betting Sportsbooks