Christ Christie Betting Odds Guide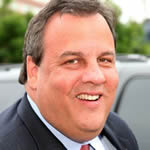 Christopher James Christie currently holds office as the governor of New Jersey. He was born in 1962 in Newark, NJ. He is currently seeking the GOP nomination for the presidency of the United States in 2016. Christie was class president of his high school, and later went on to graduate from the University of Delaware with a B.A. in political science. Soon after, he earned a J.D. from the Seton Hall University School of Law. He then joined the New Jersey State Bar Association, and later the United States District Court of New Jersey. For six years, he served as the Chief Federal Law Enforcement Officer for the state of New Jersey. While in office, he made prosecuting corruption a major priority.
In 2009, Christie decided to run for governor. He was much more moderate than other Republicans, and defeated his Democratic opponent Jon Corzine, who had been accused of corruption. Even though he was one of the few Republican politicians in liberal New Jersey, he proved himself able to compromise and work with the Democratic legislature, despite clashing with teachers' unions. Even as far back as 2012, Christie had been asked to run for president. Christie proved his leadership ability when Hurricane Sandy decimated the New Jersey shore in October of 2012. He was on the scene helping firefighting and cleanup efforts, and was re-elected as governor that November.
What Are The Odds Of Christ Christie Becoming President?
Not likely. Christie trails behind Donald Trump, Marco Rubio, Ted Cruz, and Jeb Bush. His political betting odds for winning the Republican nomination are +1,400 according to Bovada, and +1,600 according to BetOnline. As for the odds of Christie beating Hillary Clinton to become the 44th president, you can pretty much forget about it. Bovada puts his odds at +3,300, and BetOnline gives him odds of +5,000. Compare this to Hillary Clinton's -125 odds and you can pretty much count Chris Christie out.
Betting On Christ Christie at BetOnline Sportsbook
New Jersey governor Chris Christie is in the running to be America's next president. If you are ever curious about his or any other candidate's chances of winning, check BetOnline to see the most accurate odds available. BetOnline's political betting feature shows you the moneylines on everything from party nominations to who will be elected president. Currently, Chris Christie odds to win the GOP nomination are +2,500, making him one of the biggest longshots of the Republican bunch. However, sometimes a longshot can pay off, and when it does, the gains are enormous.
BetOnline has a lot going for it besides just having a killer sportsbook where you can bet on politics. It also has a really neat feature called mobile betting. What this does is allow you to use your cell phone to access the sportsbook. This is a nice feature because it frees you from having to be home next to a computer to make your wager. You can sign in to BetOnline through their mobile betting page and start betting on all kinds of different aspects of the political race. As long as you are in a location that gets Wi-Fi, you can use this supercool special feature! Join BetOnline Now!
Christ Christie On The Issues
Chris Christie is moderately conservative on most issues. He is against abortion after 20 weeks except in cases of rape, incest, or when the mother's health is threatened. He supports medical, but not recreational, marijuana. Christie wants to cut taxes across the board. He says we should shift the focus away from gun laws to mental health. He doesn't believe in nationalized health care or a single-payer system. He is against Medicaid expansion even though he expanded it in New Jersey. Christie wants increased border security, but does not favor deporting people. He is against unions. He says we should save social security for those who need it, and cut the benefits for people who earn more than $80,000 a year.
Pros
As governor of the largely liberal state of New Jersey, Chris Christie did a decent job working with both Republicans and Democrats. He is the most moderate of any of the candidates running in the Republican field, and he has proven to be able to compromise and work with others in order to get things done. Christie is not nearly as much of an ideologue as, say, Ted Cruz or Marco Rubio. Another plus for Christie is that when he worked as an attorney in New Jersey, he was able to prosecute about 130 corrupt officials.
Cons
The most recent numbers show Christie's approval rating in New Jersey at 31 percent, which is pretty bad. Christie's anti-union positions could hurt his chances of gaining the blue-collar vote. As governor, Christie was involved a scandal dubbed "Bridgegate," in which members of Christie's staff got Port Authority to close several lanes of the George Washington Bridge, causing a major traffic jam. This was supposedly in retaliation to the mayor of Fort Lee, Mark Sokolich, for not supporting Christie during his 2013 re-election campaign. Also weighing against Christie is his lack of foreign policy knowledge or experience.
Best Chris Christie Betting Sportsbooks