Bernie Sanders Betting Odds Guide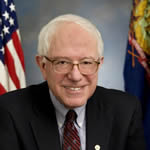 Bernie Sanders is Senator from Vermont, and a Democratic candidate. He was born in Brooklyn, NY in 1941. His parents were working-class Jewish immigrants who did not have much money. From an early age, Sanders was interested in politics. He attended Brooklyn College for a short time before transferring to the University of Chicago. During his student days, he became involved in the civil rights movement. He was active in the Student Nonviolent Coordinating Committee and the Congress of Racial Equality. He participated in some very famous marches and sit-ins in Chicago in the 1960s. He graduated from the University of Chicago in 1964 with a degree in political science.
Sanders' political career started in 1971 when he joined the anti-war Liberty Union Party. Ten years later, he became the mayor of Burlington, Vermont. He was subsequently re-elected three more times. He was involved in many city projects while mayor, and actively campaigned against plans by developers to turn waterfront property into space for hotels and condominiums. In 1987, Sanders was ranked by US News as one of America's best mayors.
In 1990, Sanders became a member of the House of Representatives as an independent. During that time, he was a vocal critic of the Iraq War and the Patriot Act. Sanders has been a champion of veterans' rights for many years, calling for better treatment and more funding for vets. In 2006, Sanders was elected to the US Senate. He had served 16 years in the House, the longest-lasting independent Congressman in history. As Senator, Sanders' approval rating was 67 percent, ranking him as the third most popular Senator in America.
What Are The Odds Of Bernie Sanders Becoming President?
Despite Sanders' rising popularity, his political betting odds still make him the underdog for both the presidency and the Democratic nomination. Hillary Clinton remains the front-runner. Her odds are -1200 versus Bernie's +600 for the Democratic nomination. For the presidency, Sanders' odds are +750 versus Clinton at -150 and Donald Trump at +500. Despite the numbers, several experts predict that Sanders could be the next president. Western Illinois University's mock election has successfully predicted every presidential win since 1975, and they say that Sanders will win. The election is still almost a year away, and things are sure to change in that time. We'll be keeping an eye on all the latest developments, so stay tuned.
Betting On Bernie Sanders at BetOnline Sportsbook
All over America, progressive Democrats have caught Bernie fever. The senator from Vermont has launched an enormously successful grassroots campaign, and has many passionate supporters who like his no-nonsense style. The best place to bet on Bernie is BetOnline, a sportsbook based out of Costa Rica. It's been around since 1991, and continues to provide its customers with the highest quality betting lines. The odds are spot-on, the have a bevy of easy deposit and payout methods, and their bonuses include everything from deposit and reload bonuses to free plays and match bonuses.
BetOnline's political section lets you bet on all kinds of aspects of the race, including the most likely nominations for each party, the winning party, the next president of the United States, and specific candidates versus the entire field. Bernie's odds to become the next president are currently +500 at BetOnline, but things could change. Bernie has surprised everybody thus far, so don't count him out. Keep checking back with BetOnline to see how the odds change as the Democratic primary approaches. Join BetOnline Now!
Bernie Sanders On The Issues
Of all the candidates running for president, Bernie Sanders is the most liberal. He is an avowed Democratic socialist. The most important issue to Sanders is the stagnating economy and unequal distribution of wealth. He wants to actively work on policies that would strengthen the middle and working class, including a significant increase in the minimum wage. His views on social issues are left wing. He is pro-choice, pro-gay marriage, and pro-marijuana legalization. He is pro-environment and supports alternative energy. Sanders is against free trade agreements of any kind, on the basis that they encourage outsourcing and loss of jobs. He believes that healthcare is a fundamental right of all citizens. Sanders is largely anti-war, although he calls for the destruction of ISIS and other Islamic terror groups.
Pros
Bernie Sanders has been surprising everybody recently with his grassroots popularity among young and working class Americans. His populist outlook resonates strongly with students and leftists. His campaign is largely supported by individuals. So far, he has raised $26.2 million dollars, which is only a few million less than the money raised by Democratic rival Hillary Clinton. His rallies and speeches regularly draw crowds of thousands, this despite his almost complete lack of media coverage. This should make it clear that Sanders is a popular and viable candidate. His lead over Clinton in Iowa and New Hampshire polls are further evidence of his strength.
Cons
Bernie Sanders is going to be a tough sell for many mainstream, moderate, and conservative Americans. The fact that he identifies as a Democratic socialist raises red flags for many people. The fact that he doesn't get the same amount of media coverage as Hillary Clinton or Donald Trump certainly does not work in his favor. A big problem is that a large number of voters do not really know much about Sanders, and rather than look into his policies, they hear the word "socialism" and dismiss him automatically. Even some Democrats who would otherwise support Sanders do not think he has much of a chance of winning. Finally, he doesn't have enough support among African-American voters, despite his association with civil rights and other progressive causes.
Best Bernie Sanders Betting Sportsbooks