Vegas Betting Odds For The 2016 Presidential Election

The 2016 U.S. Presidential Election is slated to take place on November 8th, 2016, and there are some excellent odds at online sportsbooks for not just who will win the 2016 Presidential Election, but individual caucuses, primaries, nominations, and more. This would be because no single day will influence the path of the nation as much as electing a new commander in chief to lead our country.
With the election being just months away, it still isn't clear on which candidates will represent the Republican and Democratic parties... the only thing that we do know is that President Barack Obama will not be able to seek a third term and therefore we will have a new leader following the 58th Presidential Election.
Below, we'll show you the most current political betting odds for the primaries, caucuses, nominations, and the Presidency. With the upcoming Super Tuesday run of caucuses and primaries, anything can and probably will change. We will also include other useful info about the voting process, how to register to vote, as well as info on how to bet on the 2016 U.S. Presidential Election and all the political betting odds that will be available leading up to the big day. Please use the links below to quickly navigate the different sections, and make sure to get your tickets in for Super Tuesday!
Jump To: Ways To Bet On 2016 Presidential Election ~ Who's Running In 2016? ~ Voting Info ~ Where To Wager On 2016 Election
Current Betting Odds To Win 2016 Presidential Election

Latest Presidential Election Odds: After five long months of campaigning for state primaries, we finally have our presumptive nominees on both the Republican and Democratic side of the aisle. It has been a historical election season so far, with Donald Trump surging to victory over a dozen or more GOP hopefuls, and Hillary Clinton duking it out with Democratic rival Bernie Sanders. Both Trump and Clinton have now secured enough delegates to win their parties' respective nominations. Trump needed 1,237 delegates to win the nom, and he has ended up with 1,536. Clinton needed 2,383 delegates, and she has 2,755. The Democrats have one primary left, in Washington, D.C. on June 14.

Bernie Sanders has not formally conceded yet, even though Clinton already has enough delegates to be her party's nominee. The Vermont senator gave her a great challenge, though, racking up 1,804 pledged delegates versus Clinton's 2,184. The superdelegates have been a great boon to Hillary this season, prompting Sanders to lambast what he calls a "rigged system." Interestingly enough, Donald Trump used similar rhetoric to describe the election process, further painting himself as an outsider, anti-establishment candidate. 

Unfortunately, neither Trump nor Clinton are very popular with voters. Recent polls have shown that six out of ten American's find the prospect of Trump leading the country "scary." As far as Clinton is concerned, a majority of Americans, and not just Republicans, find Clinton neither trustworthy nor likeable. The general election is looking to be the biggest "lesser of two evil" scenarios in quite some time, prompting some moderate Republicans and Sanders supporters to just stay home on November 8.

Although Clinton has a slight edge over Trump in most polls and according to the oddsmakers, anything could happen during the next five months. Donald Trump continues to alienate voters and does not seem to care. Any efforts to appear more presidential have been short-lived. "I'm not changing," said Trump at a recent news conference. Recent Trump shenanigans include comments to the effect that Judge Curiel is biased against him because he is Mexican (he was born in Indiana), controversy over the allegedly fraudulent Trump University, and his refusal to release his tax information. In other Trump news, it has recently come to light that Trump has been involved in no less than 3,500 lawsuits in the past three decades.

As far as Clinton is concerned, she still has to deal with the fallout over allegations that she used her own private email for official government communications. She has denied allegations of wrongdoing, but the damage has already been done, and you can be sure that the Trump campaign is going to make a huge deal about it. In fact, we can all look forward to five long months of mudslinging and dirty politics before we go to the polls in November. As of June 8, 2016, Hillary Clinton's odds to become the next President of the United States are -220, while Donald Trump's are +190.
2016 U.S. Presidential Betting Odds as found at Bovada Sportsbook on June 10th, 2016 - Click Screenshot To Bet

Odds To Be The Next President Of The United States Updated 6-10-16
| | | |
| --- | --- | --- |
| 2016 Candidates | | |
| Hillary Clinton | (-290) | (-240) |
| Donald Trump | (+230) | (+220) |
| Bernie Sanders | (+3300) | (+2000) |
Who Is Running For U.S. President In 2016?

Hillary Clinton - Wife of former President Bill Clinton, Hillary Diane Rodham Clinton is the current Secretary of State in the US, a position she assumed office of in 2009 under Barack Obama. From almost a decade as the First Lady of Arkansas to the First Lady of the United States through two Bill Clinton administration's, Hillary Clinton has always had a strong personal identity. She continued her political career as United States Senator from New York (the first time that a former US First Lady had held public office) before taking up her current position in the White House. A graduate of Yale Law School, she remains many people's favourite to become the first female President of the United States.
Update 6/10/16 -   Hillary Clinton has surpassed the necessary 2,383 delegates needed to win the nomination. There is still one more Democratic primary left (Washington, D.C. on June 14), but that hardly matters, because Clinton is the presumptive nominee. She has 2,755 total delegates, which is 903 more than rival Bernie Sanders has. Of the six primaries held on June 7, Clinton won four of them, including California. Most polls show Clinton slightly ahead of Donald Trump, but she continues to have a problem with a perceived lack of trustworthiness. According to the oddsmakers at Bovada, Clinton's odds to become the next POTUS are -220.


Donald Trump- When you first thought about who would be the next President of The United States you probably did not think that Mr. Trump would be part of it. Well, the betting odds for Donald Trump to be the next president are at 25/1, which is tied for the 6th favorite according to Vegas. Trump is a real estate mogul in New York City and has been on the Forbes list multiple times. Him getting elected would mean some major changes in the world of politics, some of which are probably needed. However, I am not sure if we can have a president that offends almost everyone.
Update 6/10/16 -   Donald Trump is now the presumptive GOP nominee for president. He has 1,536 delegates, which is 299 more than the 1,237 needed to clinch the nom. With no one left to challenge him, and having reached the necessary number of delegates, GOP leaders are going to be pressured into standing behind him despite their reservations. Trump has repeatedly been criticized for his lack of knowledge in certain areas, particularly foreign policy, and many have declared him unfit to be president. Stranger things have happened, though, and controversy seem to have worked in his favor thus far. Trump's current odds to become the next President of the United States are +190.

Bernie Sanders - The Senator from Vermont was born in 1941 in New York. He went to Brooklyn College and later the University of Chicago. He became actively involved in the civil rights movement and other progressive causes. In 1981, he became mayor Burlington, Vermont and was re-elected three more times. Sanders became a member of the US House of Representatives in 1990, running as an independent. While serving, he criticized members of both the Democratic and Republicans, and was a staunch opponent of the Iraq War. He became a Senator in 2006, and also served on several committees, including the Joint Economic Committee and the Committee on Veterans' Affairs. As a presidential hopeful, he has galvanized a large support group of progressive democrats and independents, and even a few conservatives.
Update 6/10/16 -  Although Bernie Sanders has not officially conceded yet, Hillary Clinton has already won enough delegates, so she is the presumptive nominee. Some insiders think Sanders is sticking around in case Hillary's email controversy gets too bad for her to be a viable candidate. After all, Sanders does have over 40 percent of the pledged delegates, not too shabby for a 75 year-old Democratic Socialist. He most recently won two state primaries on June 14, in Montana and North Dakota. But in the end, that's just not enough, despite polls showing that Sanders is actually more electable than Hillary Clinton. Sanders will most likely concede any day now, but as of now he is still in the running. His odds to win the White House in November are +1,600.


Ted Cruz - Ted Cruz was born Rafael Edward Cruz in Calgary, Canada on December 22, 1970. His father was a Cuban immigrant who came to America in the 1950s. He graduated from Princeton University in 1992 and later went to Harvard Law School. Before he got into politics, he was a law clerk for Supreme Court Chief Justice William Rehnquist. He worked as a lawyer for a while, and then as a campaign advisor to George W. Bush. In 2003, he became the Solicitor General of Texas. He won a seat in the United States Senate in 2012. During his time in Congress, he has sponsored 25 bills of his own. He is known for his very conservative evangelical viewpoint.
Update 4/28/16 - After a respectable showing in a very crowded field Cruz has dropped out of the race.

John Kasich - John Richard Kasich was born on May 13, 1952 in McKees Rocks, Pennsylvania. He graduated from Ohio State University in 1974 with Bachelor of Arts degree in political science. In 1978, when he was only 28, Kasich became a Senator in Ohio. He was the youngest ever Ohio senator. One of the first things he did in office was refuse a pay raise. Kasich served in the Ohio House of Representatives from 1983 to 2001. A fiscal conservative, he worked with Ralph Nader to close tax loopholes for corporations. He served on the House Armed Service Committee for 18 years, and later was chairman of the House Budget Committee. He has also worked as a Fox News host and has written three books.
Update 4/28/16 - He's finally out of the race after a really bad run!

Mitt Romney - Willard Mitt Romney was born in Michigan on March 12th 1947. The son of former Michigan governor George Romney politics was never far from young Mitt. After a failed attempt to unseat Tedd Kennedy in the senate in 1994 Romney reappeared on the scene to run the Salt Lake Organizing Committee and win the bid for the 2002 games. He then won the Massachusetts governors race in 2003. 40 years after his father lost the 1968 nomination to Dick Nixon, Mitt lost his fist bid to become president to John McCain, before losing a second time to President Obama.
Update 3/14/16 - With a brokered convention becoming more and more likely on the republican side Mitt Romney has jumped back into the political limelight. As the never Trump movement hits full steam ahead, the most disparate folks in American politics are turning over ever rock and crawling into every hole to find a suitable alternative to Mr. Trump. As one of the worst candidates in the history of presidential politics we doubt Mitt Romney is the man for the job but then again no one thought Trump had a chance either! At +7500 to win the election outright the book makers don't see him as viable yet either but that could very well change!

Michael Bloomberg - Michael Rubens Bloomberg was born in Boston on February 14, 1942. He went to Johns Hopkins University and Harvard Business School. In 1966, he graduated with a Master's degree in business administration. He worked on Wall Street with Salomon Brothers until they were bought out in 1981. He then started his own company, Bloomberg L.P. This made him one of the wealthiest people in the world. He became interested in philanthropy, focusing his attention on education, the arts, and medical research. In 2002, Bloomberg became the 108th Mayor of New York. Even though he considers himself a Republican, he is pro-gay marriage and pro-abortion. He was re-elected in 2005 and again in 2009.
Update 2/29/16 - Michael Bloomberg is running on the Independent ticket, and he has no competition for that "nomination". Still, he was very late to the show, and he hasn't caused much of a stir with the voting public. His odds for winning the Presidency are at +3300 at Bovada right now. However bad that number sounds, he is still ahead of Ted Cruz and John Kasich for the POTUS position. After tomorrow's Super Tuesday", we can expect to see his odds change drastically. Will it be for better or worse? Check back here to find out.
No Longer In The Race: OFF THE BOARD

Marco Rubio - The 41 year old is Florida's representative in the United States Senate, after taking office there in 2011. Florida born and raised, Rubio spent time as a Member of the Florida House of Representatives before gaining the honourable position of Speaker of the House. A graduate of the University of Florida and the University of Miami Law School, the lawyer had been touted as a candidate for Vice President in the Republican's 2012 Election campaign, but Rubio stated that he was not interested.
Update 4/2/16 -It is amazing sometimes to watch how fast a politician can fall from glory, although to be fair the word glory in any form has never applied to Marco Rubio! A few week ago Little Marco was feed up with the bullying of Donald Trump and decided to do something about it and fight back. What he ended up doing was acting like a dipshit while removing himself from any serious consideration to be the next POTUS as his betting odds plummeted to +3300. But again lets be honest, no one was ever all that serious about Rubio being president, jut look at his poll numbers in his home state of Florida which he will lose badly on Tuesday.

Jeb Bush - John Ellis "Jeb" Bush was born in1953 in Midland, Texas. He is the son of former President George H.W. Bush and the younger sibling of former president George W. Bush. Jeb spent his childhood in Houston, TX. He went to school at the University of Texas, where he got a degree Latin American Affairs. He got his start in politics by helping with his dad's campaign in 1980. At this time, he was involved in real estate development. He served as Florida's Secretary of Commerce for two years. In 1998, Bush beat Democrat Buddy McKay to become Governor of Florida. He won re-election in 2002. He has been active in politics ever since he left office.
Update 2/29/16 - As it turns out the American people are not interested in having a third Bush in the White House . And let's be honest who can blame us? After another poor showing in which Jeb spent the most money on TV buys he bowed out of the race the same way he ran it. Without flare or excitement.

Ben Carson - Benjamin Solomon Carson was born in 1951 in Detroit, Michigan. Although he grew up in poverty, his mother made certain that Carson read books and educated himself. In 1973, Carson earned a degree in psychology from Yale University, and four years later received his M.D. from the University of Michigan Medical School. He then studied neurosurgery at Johns Hopkins Hospital. When Carson was 33, he became the youngest ever director of pediatric neurosurgery. He was a pioneer in research involving separating conjoined twins. He and his wife have a charity, the Carson Scholars, which awards scholarships to kids. Carson has been given many honorary degrees and certificates. He even wrote a popular book, Gifted hands, that was made into a feature film. Carson is the recipient of the 2008 Presidential Medal of Freedom, and was selected by the Library of Congress as a "living legend."
Update 2/16/16 - Ben Carson got off to a very strong start in the 2016 presidential race. But he now finds himself off the board at most books. Over the last few months Carson has seen his support dwindle to almost nothing. In the New Hampshire primary, he won just 2.3 percent of the vote and 0 delegates. He fared a little bit better in Iowa, but not much. He won 9.3 percent of the vote and 3 delegates. If these numbers are any indication, Carson's campaign is running on empty. Most of the major oddsmakers do not even have Carson listed. He is still technically in the running, but for how long is anybody's guess.

Chris Christie- Born in New Jersey in 1962, the incumbent Governor of New Jersey declined the chance of becoming a Presidential nomination for the Republican party in 2012, simply to concentrate on his job as state governor. Christie is an attorney, once working for the District of New Jersey after being nominated by Geroge W Bush, an office which he held from December 2002 to 2008. The University of Delaware Alma mater assumed office as the 55th Governor of New Jersey in 2010.
Update 2/11/16 - After failing to win any delegates in the New Hampshire primary or the Iowa caucus, it looks as if whatever steam Christie once had is finally running out. Don't count on Christie to make much of an impact from here going forward as reports have him suspending his campaign before next weeks primary in South Carolina.

Martin O'Malley - In 2006, O'Malley was elected as the Governor of Maryland, taking office in 2007. His work prior to that has seen him serve as the Mayor of Baltimore, where, during his tenure he was named "The Best Young Mayor in the Country" by Esquire magazine. The 49 year old has also served time as a Baltimore City Councilor and currently holds position as Chair of the Democratic Governors Association. O'Malley, who was born in Washington DC, is an attorney who has long been linked with national political ambitions.
Update 2/11/16 - After a poor showing in Iowa Governor O'Malley dropped out of the race. Look For him to be on the short list of VP candidates when the nomination has been won.

Carly Fiorina - Carly Fiorina was born in 1954 in Austin, Texas. She went to Stanford University where she got a degree in philosophy and medieval history. She then went to MIT, where she graduated with a Master's in Business Administration and Master of Science in management. She worked for several large companies, but her biggest claim to fame was being the CEO of Hewlett-Packard. During her time running the company, she oversaw the merger between HP and Compaq, which turned out to be a disaster. Under Fiorina's reign, the company ended up laying off 30,000 workers. After the company's stock value declined, she was ousted.
Update 2/11/16 - Carly Fiorina might as well just call it quits right now, but for some reason she keeps holding on to the false hope that she can win the presidency. At this point, Fiorina is not even on the oddsmakers' radar at all. She got a paltry 1.9 percent of the vote in the Iowa caucus, and 4.1 percent in New Hampshire.

Joe Biden - Born Joseph Robinette Biden, Jr, he is currently holding office as the 47th Vice President of the United State under the Barack Obama administration. Biden has been in office in 2009 following almost a decade serving as Chairman of the Senate Committee on Foreign Relations. The big political career all started back in 1973 for Biden when he took office as the United States Senator for Delaware. A University of Delaware graduate, the 69 year old was elected for a second term in the Vice Presidency in 2012.
Update 2/11/16 - Biden already announced he would not be running for president, but it's not impossible that he could change his mind. What would be the point, though? He said himself that he didn't think he could win. Most importantly, it's going to be tough to compete with a smart and determined woman like Hillary Clinton and a passionate and popular maverick like Bernie Sanders for your party's nomination. Currently, the oddsmakers don't seem too concerned with Joe Biden.

Rand Paul - Self titled 'Constitutional Conservative' Paul, is the incumbent US Senator representing Kentucky. Paul, a resident of Bowling Green, assumed the office in January of 2011 in the Senate following national attention back in 2008. Paul came to the limelight when supporting his father, Ron Paul, a Republican presidential candidate in 2012. The 49 year old made speeches for his father, but he has also gained recognition in his political career for taking independent standpoints on issues as well.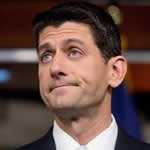 Paul Ryan - 42 year old Ryan, born in Janesville, Wisconsin and a graduate of Miami University, was Mitt Romney's running mate for the 2012 Presidential Election. Ryan currently holds the position as House Budget Committee Chairman and assumed office as the United States Representative for Wisconsin's 1st congressional district in 1999. Ryan has a long history of speechwriting for political figures throughout his career, and is known for his budget reformations regarding healthcare in the United States.

Andrew Cuomo - Son of former New York Governor Mario Cuomo, the New York native took office as the 56th Governor of New York in 2011. He has a long political career and worked at the White House during the Bill Clinton Administration. A lawyer by trade, Cuomo worked as the Assistant Secretary of Housing and Urban Development before moving on to become the 11th US Secretary of Housing and Urban Development. Cuomo, who is of Italian heritage, was the Attorney General of New York for four years between 2007 and 2010.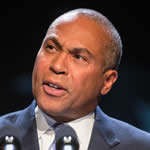 Deval Patrick - Being the 71st Governor of Massachusetts, Patrick was preceded by Mitt Romney in that office. Born in Illinois in 1956, and a graduate of Harvard University and Harvard Law School, Patrick took office as the Governor in 2007, after a being an underdog in the race. He has experience of working in the White House, as he was part of the Bill Clinton administration, serving as Assistant Attorney General for the Civil Rights Division of the United States. Patrick became the first African-American Governor of Massachusetts.

Mark Warner - The Indiana native is the United States Senator from Virginia, and is likely to step up to the Senior Senator position in 2013. He withdrew himself from being a Presidential Candidate in the 2008 elections for the Democratic party so as not to take time away from his family. A graduate of Harvard and working as a telecommunications executive he became incumbent in the Senate for Virginia in 2009, three years after the end of his tenure as the 69th Governor of Virginia.

Rob Portman - A strong Ohio political figure, Portman served in the United States House of Representatives for twelve years, taking seven congressional electoral victories in a row. In 2010, the Cincinnati born Portman took office as the junior United States Senator for Ohio. Portman served the presidency of George W Bush as White House Counsel, Chief Counsel and holding positions as Trade Representative and Director of Management and Budget in his career. Portman had been strongly considered as a Vice President for the Republican's 2012 election campaign.

Bob McDonnell - Born in Philadelphia, Pennsylvania, the 58 year old is the incumbent Governor of Virginia, a role he has held since January 2010. McDonnell comes from a military background, having served as a lieutenant colonel in the US Army. His first major public-serving office was at the Virginia House of Delegates from where he moved on to become the Attorney General of Virginia, a post he held for four years between 2006 and 2009.
Types of Presidential Betting Odds For The 2016 Election
We became very astute in all the ways to bet on who will be the next President of the United States of America back in 2012 and leading up to that election. Below, we'll break down common ways to bet on the 2016 U.S. Presidential Election and what you might encounter when looking for the odds.
Odds To Win Electoral Vote - By far, this is the most common type of Presidential wager. This bet will simply ask who will be the next President/winner of the election. Until the candidates or potential candidates for each political party are known, these odds will likely only cover whether the Democrats or the Republicans win control over the White House. These odds were available the day after the 2012 Presidential Election for the 2016 election... we've covered these odds on this page. And, just like any wager made with a sportsbook or online bookmaker, it will be handicapped however since there is only a winner and a loser, the wager is handicapped through payouts and the amount won with a single dollar wagered.
Handicapped Electoral Vote Count - This type of betting should be familiar for anyone that knows about betting on sports. When the electoral vote count is handicapped, it is just like a spread on a football game, basketball games, etc... Basically, the handicapped vote count will dictate the margin of electoral votes a candidate will need to win/lose by in order to win the wager. We mentioned Obama beat Romney by 126 electoral votes for which his handicapped line was 90.5 electoral votes. By winning by 91 or more votes, Obama won both the election as well as the wager for those who took the bet. It is unlikely to see this line until the weeks/days before the 2016 election.
Over/Under Electoral Vote Count - Another bet that is very similar to a sports wager... the over/under wager on the electoral vote count is done on a candidate by candidate basis and it simply asks whether Candidate A will get more or less than a predetermined number of Electoral College votes. This predetermined amount will be different for each candidate based on his/her outlook for the upcoming election. Sometimes the over/under is handicapped through payouts to a single dollar wager because the difference in one state could potentially be as many as 55 electoral votes. Again, this wager usually isn't available until a week or two before the election.
Odds To Win Popular Vote - This works just like the odds to win the election however winning the Electoral College and winning the popular vote are two completely different things mainly because you can win the popular vote but not the election. Still, odds for the popular vote are presented in the same format where either Candidate A or Candidate B wins. And without a spread/handicap, each side of the wager pays differently when a single dollar is wagered on one side versus the other. Look for the 2016 popular vote odds to become available within a month of the election date.
Odds To Win A Particular Swing State - As we talked about previously, one state can make or break a campaign and therefore there is a lot of attention placed on particular states which could go either way... Democrat or Republican. Each election is different but typically these wager revolve on bigger states which can actually impact the race significantly. Each state has different odds for Democrats or Republicans based on past elections, current polling, and registered voters in the state. Perhaps the best example of this wager was Florida in 2012 where Mitt Romney was better than a 2 to 1 favorite to win the state's 29 electoral votes. Well, President Obama won Florida in 2012 thus winning a good chunk of money for anyone who bet on him to win the state because he was the underdog and a single dollar wager payed more than what was bet plus the original amount risked. Because so much goes into figuring out which way a state might go, or even if there is a possibility of it swinging to one side or the other, odds for swing states are not available until right before the election.
Political Primary Odds - Leading up to 2016 there will be a lot of campaigning within both of the major political parties for nomination to be the next President of the United States. With that comes betting odds on each party's primaries in big states where it is not already known who will be selected to represent the party in the upcoming Presidential Election. Back in 2012, Rick Santorum and Mitt Romney went head-to-head for several weeks for the Republican nomination until Santorum finally bowed out, clearing the way for Romney to seek election. In 2016, both parties will be selecting a nominee so the action should be much more intense than in 2012. Look for odds to win state primaries starting in 2015.
Best Sites To Bet On 2016 Presidential Election
Rank
Best Sites For Betting
Deposit Bonus Promotion
2016 Presidential Odds Open?
Go To Site

1

Bovada Sportsbook

New 50% Match Good To $250

2016 Presidential Odds Up!!!

2

Sportsbetting.ag

All Deposits Earn Up To $1,000 Each Time

No Odds Available

3

BetOnline Sportsbook

25% Match To $1,000 Every Deposit

No Odds Available
We're pretty sure most of you know how the election process works however if you do not, we encourage you to keep reading this section. We're going to cover some basic material which will help you better understand our (the U.S.) electoral process.
Electoral College vs. Popular Vote
The first thing you need to know is that the popular vote has no bearing on the outcome of the election meaning that it is totally possible for one candidate to get more votes than his/her competitor but still not win the election. This is because the United States uses the Electoral College which assigns a specific number of votes to each state based on that state's population. The number of electoral votes a particular state has is based on the number of members in Congress... every state has two senators and a varying number of representatives in the U.S. House of Representatives. Here are a few of the bigger states and their electoral vote counts: California (55), Texas (38), Florida (29), New York (29), Illinois (20). At the time of this writing, there are a total of 538 Electoral College votes of which 270 is needed for a majority and to win the presidency.
In the 2012 Presidential Election when Barack Obama won a second term over Republican challenger Mitt Romney, he did so with an electoral vote count of 332 to 206. The popular vote in that election was much closer than what the Electoral College would lead you to believe. While Obama won 61.71% of the electoral votes, his margin in the popular vote was much smaller... right around 50.5% versus Mitt Romney's 48.0% with the remaining percentage going to various third-party political parties i.e. Green, Reform, Tea, etc...  The result of this election was much closer than some believed and as always the entire race came down to a few swing states like Ohio which tipped the balance in favor of the incumbent. But while the end results are clear, there was much speculation that Obama could potentially lose the popular vote and still retain office. That never came to be but it was still very close and with a few more precincts, a few more counties, a few more states, Mitt Romney could have very well taken the White House from Obama in 2012. Could have, would have, should have...
Who Can Vote In 2016?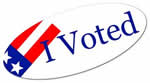 Each state handles it's own voter's registration so we are unable to provide just one universal link that will take you to where you can register. Our best advice would be to do a Google search, or whatever search engine your prefer, for "(state you live in) voter registration" which should produce a list of links with information on where/how/when to register to vote. These should all be state-run websites. If you come across a site with a domain name such as "TennesseeVoterRegistration.com", it's probably not affiliated with the state at all. Below is a basic list of requirements that need to be met in order to register:
Be A United States Citizen
Be A Resident Of The State In Which You Are Residing/Trying To Register
Be At Least 18 Years Old (some states allow early registration however voting is not allowed until 18 years of age)
Must Not Have Been Convicted Of A Felony In Which Your Civil Rights Were Revoked
Must Have Current & Correct Identification
Remember, each state runs it's own voter's registration so there may be additional requirements that are not listed here. Do know that you must be registered to vote for at least 29 days before you are allowed to vote in an election... so, figuring 2 weeks for processing, the cutoff to register to vote in the 2016 Presidential Election would be right around late September in 2016. Most states allow residents to get their voter's registration started online which is a real plus to making sure things are done ahead of time.
Where Can I Vote In 2016?
That information will be given to you once you have registered to vote. You will receive a voter's registration card with information about your voting precinct. And, just because you voted at a particular polling station in one election does not mean that is where you will vote for the next election. Precinct boundaries are always being re-drawn to benefit whichever party is in office so your precinct can and probably will change at some point. When it does, you will be sent a new registration card complete with your new polling information. You want to be sure to keep your address current otherwise you will probably fail to get notice of any change and be denied the right to vote if you show up at the wrong precinct. There are several resources online which can help you locate your polling station which will be made available as we approach the Presidential Election in 2016.