#TomBrady2020: Bet On Tom Brady's 2020 Presidential Election Odds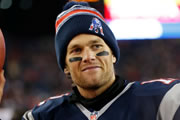 From GOAT to GPOAT? Perhaps. According to Bovada online sports betting site, you can bet on the five-time Super Bowl champ to become the next leader of the free world in 2020. After making the biggest comeback in Super Bowl history after a 25-point deficit in the third quarter, who's to say it couldn't happen?
If you were to bet $100 on the +3000 betting odds for Tom Brady to win the 2020 Presidential Election, you would be $30,000 richer if he were able to dethrone current President – for now at least – Donald Trump come Election Day. Though New England Patriots fans may start trending #TomBrady2020 in support of his imaginary political campaign, Bovada has plenty of other prevalent names in sports that enthusiasts can put their money on.
Vince McMahon

(+50000), WWE Chairman

Dwayne "The Rock" Johnson

(+10000), Actor/Former Wrester/A million other slashes

Mark Cuban

(+6000), Owner of the Dallas Mavericks
While we can dream, Bovada does have odds for who will win the 2020 Presidential Election that are a bit more realistic. If you want to bet chalk, there are +300 betting odds for Donald Trump to get reelected. Other favorites include current Vice President Mike Pence (+700), MA Senator Elizabeth Warren (+900), and former First Lady Michelle Obama (+1400).
With the likely winners out of the way, let's do a matchup of where the remaining potential candidates stack up against each other. According to Bovada, Tom Brady has the same chances of becoming president as Chelsea Clinton (+30000). Mark Cuban and Mark Zuckerberg (+5000) both have better Presidential betting odds than former Governor Jeb Bush (+10000) and former presidential candidate John Kasich (+6600).
As much as we would love to change Mr. Brady to Mr. President, it's not likely that this will happen. What is more likely is that the current President will not last a full term, at least according the latest polls and betting odds. A poll from the Morning Consult and Politico that was released Friday saw a 53% disapproval rating of Trump from American voters. The poll also found that 77% of voters found Trump to be arrogant, though this rating could have been presumed without the survey.
The odds that Donald Trump will complete a full term as POTUS are +120, while his betting odds to leave early are at -160. The odds that Donald Trump's exit date will be in 2017 are at +150, while his odds for 2020 or later are at +130.
There is no telling which way the political betting odds tides will turn when it comes to what is currently happening in the Oval or what will happen in the future. One news outlet did report that Tom Brady did get four write-in votes during the 2016 election, so we could say that he has already started to gain momentum on his campaign trail.
Best Political Betting Sportsbooks